On the first day of the Shimmer tapings on Saturday, March 26th, I gave the Joshi's their gifts during the intermission (all except Ayumi, who wasn't able to make an appearance at the merch table on day 1). With the photographer – Mr. Greg Davis' permission, here are the photos of the joshi girls accepting my gifts (check out more of Mr. Davis' photography @ Dirty Dirty Sheets):
Later during the Shimmer tapings, Tomoka was seen using the "Aqua de los Rudos" water bottle during the tag match that ultimate garnered her and Daizee Haze the Shimmer Tag Titles. Daizee scored the pin on Hiroyo after a kick by Tomoka. No water spraying was involved in the pinfall so I don't think it was my fault ;-D
Also, one of the biggest surprise of the weekend was seeing my good Amigos – Mr. Otoko Dasadasa & Mr. Takehisa Kashima who came to the USA on top secret mission to support the joshi girls. They were so sweet and brought me this wonderful Hiroyo-inspired mask that Mr. Kashima (of Aoikougei) made for me! Photo will be posted shortly of the 3 amigos with their masks on~ But for now, here is the Hiroyo mask (which she signed this past weekend):

The emblem on the mask is "ひ" which is pronounced "hi" as in HIroyo. The orange side has the design from Hiroyo's t-shirt, and is autographed by Hiroyo. The green side has the design from Hiroyo's costume. The maker of the mask is the same person who made Hiroyo's orange and green costume. I LOVE my Hiroyo mask!!!
In addition to great wrestling, Shimmer really provides fans from around the world the unique opportunity to interact with the wrestlers in a way that seems to have no parallel elsewhere. The joshi wrestlers were also so gracious in receiving the fan love (in terms of cheers, chants and gifts).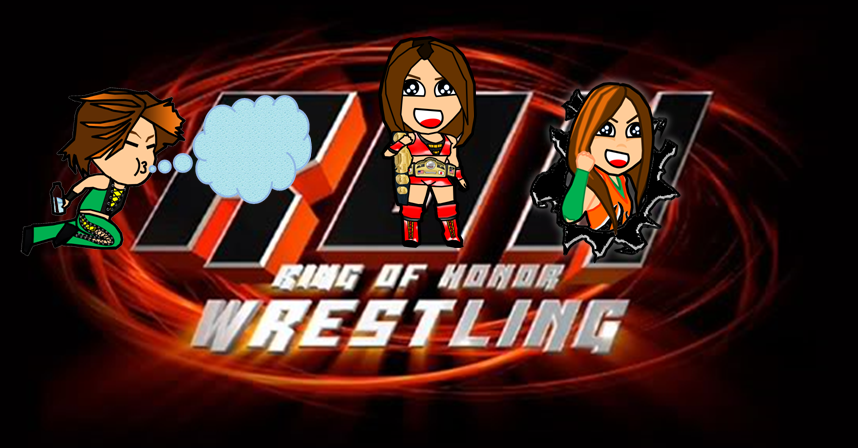 While Misaki Ohata returns to Japan due to her commitments to JWP-WAVE, Ayumi, Hiroyo and Tomoka will continue to Atlanta for ROH the next coming weekend (April 1 & 2). Hiroyo and Ayumi will team up, and will actually challenge for the Shimmer Tag Titles held by Naka-Haze!!! More info can be found HERE!